What do you do if your child won't wear their glasses? How do you know what type of glasses to buy for your child who has never worn them before? How are you supposed to choose from so many different options? If you've ever asked yourself any of these questions, you understand the struggle of trying to choose glasses for your child.
Luckily, you're not alone. Roughly 38.8% to 51.9% of all children in the US wear glasses, depending on gender and age.
If you're overwhelmed by the thought of finding the right pair of glasses for your child, don't worry. Here's a list of everything you need to know before you buy.
Why Does a Child Need Glasses?
Wearing glasses for the first time may be scary or confusing for your child. Understanding why your child needs glasses and doing your best to communicate the importance, may make them feel more comfortable about their new eyewear.
There are many reasons why your child may need glasses. A child's visual system is continually growing and developing, so glasses can play an important role in their development. The main reasons a child may need glasses are:
To correct vision problems
To help strengthen the vision of a weak eye (known as amblyopia or "lazy eye")
To ensure proper eye positioning (strabismus or "cross-eyes")
To protect one eye if the other eye has poor vision
How to Get Your Child Excited About Wearing Glasses
Your child might hesitate to wear glasses even if they know they need them. If your child is excited about wearing glasses, they'll wear them more often, hopefully preventing further eye issues down the road. Here are a few ideas to get your child excited about wearing glasses:
Include your child in the process
Make a fun day out of glasses shopping
Buy a pair of non-prescription glasses for yourself
Let your child pick their own design
Talk to them about other people who wear glasses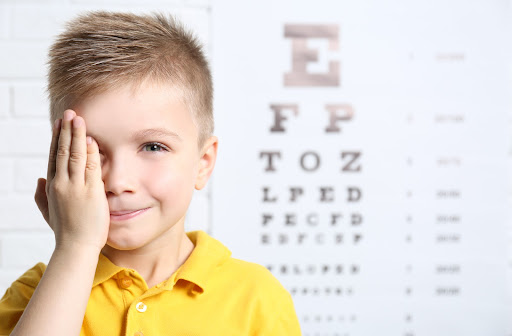 The 6 Steps of Buying Children's Eyewear
1. Find Out Your Child's Prescription
The first step to consider when choosing glasses for your child is their prescription. Your child should receive an eye exam regularly to check for a change in prescription and to evaluate their overall eye health.
Once you know your child's prescription, you can start to look at buying a pair of glasses.
2. Find Out What Material Is Best for Your Child
From frame materials to the lens material, there are many options when it comes to children's eyewear. But how do you know which are best for your child?
Children's frames are usually manufactured from either plastic or metal. Plastic frames have been the go-to material for children's eyewear due to their durability and lightweight. Recently, metal frames are being made with similar features, so you should base this decision on your child's preference.
After deciding what type of frames your child wants, it's time to pick the right lens. Your child should wear glasses with polycarbonate or trivex lenses. Compared to glass lenses, these lenses offer the following benefits:
Safer
Lighter
Scratch-resistant
Protect against UV rays
3. Make Sure They Fit Properly
How should your child's glasses fit? During an eye exam, we can help measure your child's temple length and bridge height. This will help to ensure that you have all the information you need to buy glasses that fit your child properly.
Additional features that can help with finding the proper fit include:
Wrap around temples. Some children's glasses have temples that wrap around the back of the ear to keep the glasses in one place.
Adjustable nose pads. Adjustable nose pads allow for your child to be comfortable wearing glasses no matter what position they are in or activity they are doing
Hinged temples. Hinged temples allow for flexibility within the temples, which can help lower the risk of damage.
4. Consider Other Eyewear Your Child Might Need
Eyewear doesn't stop at prescription eyeglasses. If your child needs to wear glasses daily, you may be interested in:
Prescription sunglasses. In sunny environments, the eyes need extra protection beyond corrective needs. Prescription sunglasses offer UV protection while delivering the same corrective treatment as their everyday lenses
Sports glasses. If your child plays sports, you'll quickly find out that glasses tend to move around during games. Sports glasses are made to wrap completely around the face, ensuring they don't get in the way of your child's fun
5. Ask About Warranties
Ask about our warranty! Your child may break or damage their glasses at some point, so getting a warranty can save you money in the long run.
6. Purchase a Back Up Pair
If your child misplaces or damages their glasses, it is best to have a backup pair so that they don't have to suffer from vision problems while waiting for another pair. This not only prevents your child from suffering, but it saves you a lot of hassle and time.
Now that you know the 6 steps in choosing glasses for your child, hopefully you'll be able to find the right pair a little bit easier. Remember, we are here for you if you have any questions or concerns about your child's eye care or general eye health, book an appointment today.