Eye exams are an integral part of taking care of your eyes. Depending on their age and eye health, most people should see their eye doctor every two years for a comprehensive eye examination. You can expect to undergo several diagnostic tests and answer questions during an eye exam, but how else do you prepare?
Should you wear your contacts to an eye exam or only bring your glasses? The answer depends on the type of eye exam you're getting. Your optometrist will likely want you to wear or bring your contact lenses to a lens fitting or follow-up.
The best thing to do if you're unsure whether you should wear your contact lenses to your eye exam is to ask your eye doctor before you arrive. They can typically provide you with the answers to questions like this over the phone before your appointment.
What Is an Eye Exam?
A comprehensive eye exam is an examination of the eyes that is thorough and detailed. It's performed by an optometrist and encompasses a range of tests and evaluations to assess the overall health of the eyes.
During a comprehensive eye exam, various techniques and instruments are used to evaluate visual acuity, check for refractive errors, measure intraocular pressure, examine the external and internal structures of the eyes, and screen for eye diseases and conditions. These exams help detect potential issues early on and allow your optometrist to make changes to your lens prescription.
Contact Lens Fitting & Exam
A contact lens exam is similar to a regular eye exam. The significant difference is the focus on fitting or prescribing the correct contact lenses.
Your eye doctor often takes measurements of the eye's curvature during a contact lens exam. And if you've never had contact lenses before, they may send you home with a trial pair to see how they fit.
Should You Wear Contacts to an Eye Exam?
There isn't a definitive answer to whether you should wear your contacts to an eye exam because it ultimately depends on what type of eye exam you're seeing your eye doctor for. A contact lens exam and fitting or follow-up visit are two examples of appointments where your optometrist may need to see you with your contacts in for at least part of the appointment. In some cases, your eye doctor may also want you to wear your current contacts for part of the comprehensive eye exam.
One thing to remember is that it may be a good idea to bring your contact lens storage container and solution because your eye doctor may want to perform testing with your contacts in and out of your eyes to get the most accurate results.
Appointments You Shouldn't Wear Contacts To
While there are circumstances your optometrist may want you to wear your contacts for part of an exam, there are also certain times you shouldn't wear contacts.
Laser Surgery Consultation
Laser eye surgery can be a great way to correct your vision. Your eye doctor will likely recommend that you don't wear contacts during a laser eye surgery consultation and perhaps for a few days beforehand.
During a laser eye surgery consultation, your eye doctor may take extensive measurements of your eye's surface to determine your eligibility for certain laser procedures. And certain contacts, such as ortho-k lenses are actually designed to change the eye's surface, so it is best to follow your optometrist's recommendations on contact lens wear leading up to your appointment.
Dry Eye
Dry eye syndrome is a common condition where your eyes either don't produce enough tears or the tear film is inadequate and evaporates too quickly. One of the symptoms of dry eye is discomfort while wearing contact lenses. If you're seeing your eye doctor for dry eye therapy, your eye doctor may recommend you don't wear your contacts.
Preparing for Your Eye Exam
There isn't a lot you need to do to prepare for an eye exam ahead of time. If it's your first visit with an eye doctor, you can expect to answer extra questions regarding your medical and family history so your optometrist can get a good understanding of your eye health.
You should bring your prescription eyeglasses with you, even if you don't need to wear them full-time. Your optometrist may want to verify the prescription of your existing lenses during your exam. Additionally, it is a good idea to bring your contact lenses in their storage container to save time if your eye doctor wants you to wear them.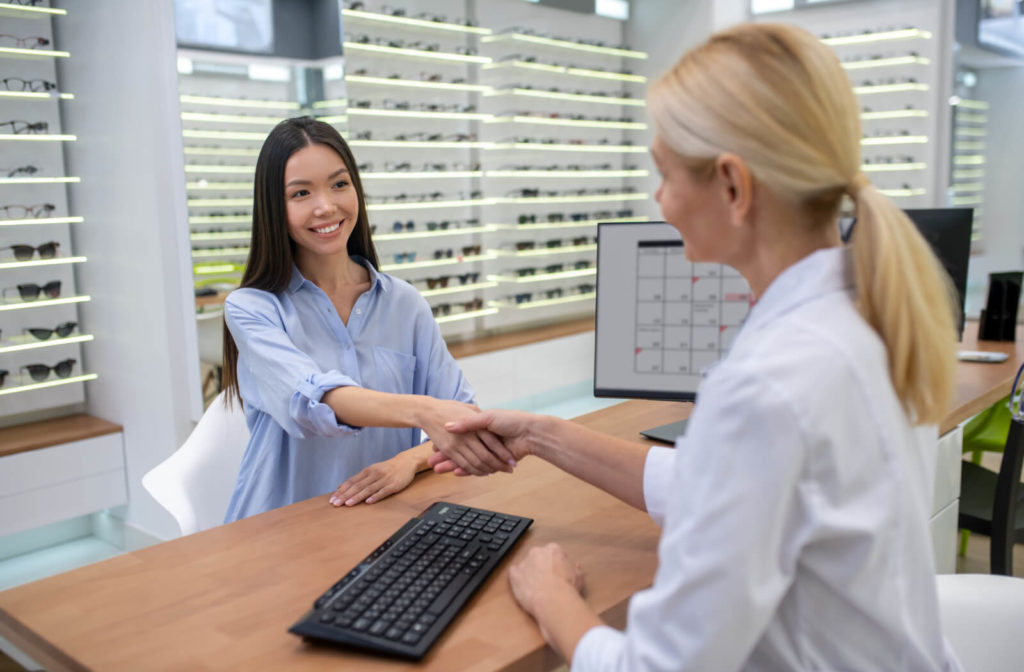 Book Your Next Eye Exam
Ultimately, you should ask your eye doctor if you should wear contacts to your eye appointment or not. While most eye exams follow a similar pattern, each one is still unique to you and your vision.
Contact us at Total Vision Sports Arena to book your next exam. Our professional team can advise you of anything particular you need to know for your appointment.